Every year at Chester Cathedral, Cheshire Emergency Services meet together and have their annual carol service.
Code Audio Visual was the supplier of choice,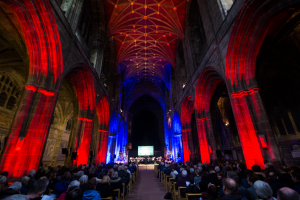 continuing on from years of successful events, to provide full technical support. Code AV provided full HD projection with one of their 12' x 7' 16:9 screens. There was a mix of presentations and live camera feeds which were seamlessly mixed through their Roland HD vision mixer.
Code AV supplied a multi-speaker sound system covering the whole congregation so they could hear every word clearly. The cathedral was also flooded with colour giving the wow factor by powerful LED uplighters. (No flashing blue lights though…!)
If you are interested in what Code Audio Visual can do at your event, conference, award ceremony, then call us direct on 0800 644 6165, or email us at info@codeav.com.